Advertisement
Advertisement
According to Footy Room, Leo messi  leads the way with 225 Man of the Match performances in ten  years and Ronaldo is second with 125 for blanco real madrid and Juventus.
leo Messi leads rival Cristiano Ronaldo by a long way when it comes to the most Man of the Match awards in the past 10 years.
It's no surprise that the two men with 11 Ballon d'Ors between them in the past 12 years have been the best player on the world more often than anyone else in the past 10 years .
The only thing more impressive as how good each of them is at their best is just how consistently they've put on that level of performance.
1. Lionel Messi, Barcelona  225 Man of the Match awards
2. Cristiano Ronaldo, Real Madrid/Juventus - 125 Man of the Match awards
3. Eden Hazard, Chelsea/Real Madrid - 93 Man of the Match awards
4. Zlatan Ibrahimovic, AC Milan/PSG/Manchester United/LA Galaxy - 89 Man of the Match awards
5. Neymar, Barcelona/PSG - 65 Man of the Match awards
=. Luis Suarez also as Neymar, Ajax/Liverpool/Barcelona - 65 Man of the Match awards
7. Gareth Bale, Spurs/Real Madrid - 62 Man of the Match awards
8. Antoine Griezmann, Real Sociedad/Atletico Madrid/Barcelona - 58 Man of the Match awards
9. Arturo Vidal, Bayer Leverkusen/Juventus/Bayern Munich/Barcelona  - 53 Man of the Match awards
10. Marco Reus, Borussia Monchengladbach/Borussia Dortmund Deutch - 50 Man of the Match awards
Copyright image:Footy Room  
Advertisement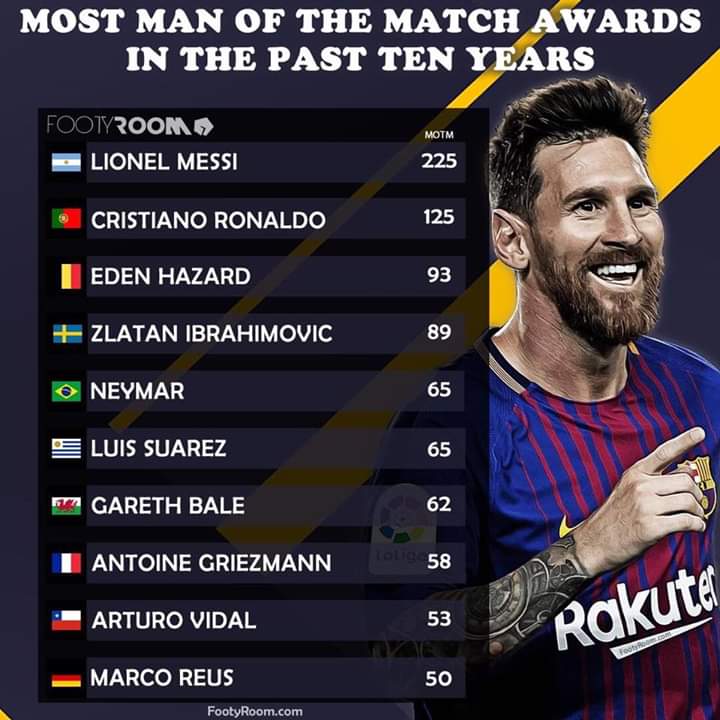 Advertisement