Advertisement
Advertisement
Camp Nou welcomed Coutinho from Liverpool last year as they expect him to be the perfect replacement for Iniesta. Barcelona made him the third expensive signing with a mammoth fee of $162 million. The Brazilian had a promising start in his new club and scored 10 goals in his debut seasonfor Blaugranas.
Expectations went sky high for his first full season in Camp Nou. But to be honest, he is not even showing half of Liverpool Coutinho. The Ex-Reds star found the net only 6 times so far this season.He often finds his place on the bench as Valverde prefer Dembele and Arthur ahead of him.
With such a hefty price tag, Coutinho had immense pressure upon his shoulders during his arrival in January. When someone considers you as a valuable asset, then it is up to you to prove that you are worth the money. He faced a lot of criticism from Liverpool fans for leaving the club in the middle of the season. The task in front of him wasn't easy either which was to replace Iniesta in the heart of Barca's midfield. No doubt that pressure played a big part in Coutinho's recent form.
Coutinho likes to play as an attacking midfielder rather than a left winger. We can see the change in his play with the Brazil National team where Neymar plays the role of winger and Coutinho as an attacking midfielder. It is more suitable for him as he loves to be in a free role on the pitch. Valverde often puts him in the left-wing role which seems to be insecure for the Brazilian. He doesn't have the pace for making the overlaps and to produce crosses.
Recent signings like Arthur and Vidal also affected Coutinho. Both the players showed tremendous piece of play whenever they got a chance. Under a defensive minded coach like Valverde, there is no surprise if you see Rakitic and Vidal starts ahead of Coutinho in the starting eleven. The bromance between Valverde and Rakitic is still a mystery for the fans as the Croatian keeps finding his place on the starting eleven in almost all the matches. Vidal brings the fighting spirit to the team and is able to play as a box-to-box midfielder. Fans already started comparing Arthur with Xavi due to his calm and composure style of play. Valverde has various options for midfield now.
Coutinho was not the only signing for Barcelona after Neymar went to PSG. Barca signed the French wonder kid Dembele from Dortmund to replace the Brazilian. The 21-year-old is considered as one of the future star and Valverde seems to be impressed in the young lad. He is blessed with pace and skills which makes him the ideal choice for the left winger position over Coutinho.
It is interesting to note that at first, Dembele struggled to make it into the starting eleven while Coutinho often got his chance. Now things are reversed; Dembele in the starting lineup and Coutinho warming up the bench.
Injuries also played a big part in Coutinho's career at Barcelona. The Brazilian suffered from a Torn muscle bundle in early November which costs him 19 days out of the pitch. After that injury, Coutinho didn't find his rhythm back. He also had an injury when Barca signed him which made his debut late for Blaugranas. Even a slight injury would make you pay in such a star-studded club.
It is clear that Coutinho is not getting the one man star value in Barcelona when compared to Liverpool especially due to the presence of Messi. Coutinho must fight to earn his spot back. At the moment he lacks confidence and fighting spirit.
There are rumours regarding a swap deal with Coutinho and Neymar. Also Manchester United are aiming to lure the Brazilian away from Camp Nou. The 26-year-old have many years to come and a move from Camp Nou considering his current situation seems to be possible.
Coutinho is one of the best in his position and has the potential to be the next big thing in Barcelona.
He just needs some time to regain his confidence and form. Hopefully, we can see old Coutinho very soon in Camp Nou. Barcelona will face Eibar tonight and let us see whether the Brazilian gets his place on the pitch
Advertisement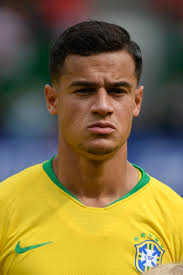 Advertisement