Advertisement
Advertisement
Pogba remains subject to intense transfer speculation with reports heavily linking him with a move away from Old Trafford. Juventus have expressed a strong interest in resigning the unsettled midfielder not to mention Real Madrid who have made an offer to United. According to Evening News manchester, Real Madrid have offered Manchester United £72 million plus either Gareth Bale or Isco in exchange for paul. Despite already snapping up Eden Hazard and Luka Jovic, among others, Zinedine Zidane's hellbent on recruiting a creative midfielder with his eyes firmly fixed on Pogba.

The capitain of french is prepared to offload Bale or Isco to sign Pogba from United.
Agent of paul pogba Raiola has claimed that the club have been made aware that the player wants to leave this in the year .
«raiola said : every body knows the willingness of Paul pogba to move on. We are in the process of that. Everyone knows what the feelings of pogba are » « And continue said :Everyone within the club, from the manager to the owner, knows Paul's wishes. » Last month,paul pogba dropped the biggest hint yet that he'll be leaving premier league by admitting he wants a new challenge.
« paul said :Like you said, there is a lot of talking and a lot of thinking as well," he said when asked about the constant transfer rumours.
"For me I have been for three years in Manchester and have been doing great; some good moments and some bad moments, like everyone. Like everywhere else.

Paul continue said:
"After this year and everything that happened this season, with my season being my best season as well... I think for me it could be a good time to have a new challenge somewhere numbered else.
« hes also said :I am thinking of this: to have a new challenge somewhere else."
The 26-year-old rejoined Man United in summer of 2016 for a then-world record transfer fee of £89 million. He's spent three seasons at United but his days in old trafod appear to be.
Advertisement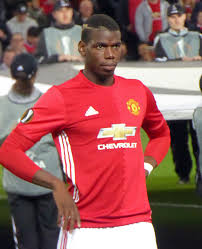 Advertisement