Advertisement
Advertisement
The Spanish defender and former player of Barça blames the young Brazilian talent for having insulted him several times Sunday night.
The tension was palpable Sunday night in Seville for the shock of the 19th day of La Liga between Betis and Real Madrid, both in the race for qualification to the Champions League / Despite an irregular dynamics in the league, the Merengue finally won on the wire (2-1).
"Vinicius has a lot to learn"
Proof that this match was quite muscular, Marc Bartra reported an incident with Vinicus Junior, the young striker (18 years) who would not have his tongue in his pocket. According to Barça's former central defender, the Brazilian prodigy reportedly insulted him. "Vinicius has called me son of p *** three times and he has a lot to learn," commented the Betis player.
Advertisement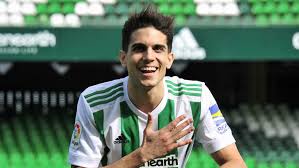 Advertisement