Advertisement
Advertisement
The russian has called on the UFC to give him respect and want to make him number one on their pound-for-pound list, after taking his record to 28-0.


On Saturday Nurmagomedov became the undisputed UFC lightweight champion when he defeated Dustin Poirier at UFC 242 and khabib has called on the UFC to now put him above Jon Jones on the pound-for-pound list Speaking at the post fight press scrum about his 28-0 record the russian said, "You know what's interesting in this sport? Even if you're 28-0, 12-0 in UFC, you're one of the biggest stars, you smash everybody, people (are) going to talk about, 'You have to fight with him,' 'You have to fight with him.'
"Give me respect. Put me (as the) No. 1 pound-for-pound fighter next week. I think I deserve this because I dominate all my opponents. I'm undefeated. I think I deserve some respect." Khabib said Jones didn't return to the top of the pound-for-pound rankings on the back of his own victory but on the back of a loss for long time rival Daniel Cormier.
The former two weight world champions loss to Stipe Miocic, which returned the heavyweight title back to the man DC had beaten for the belt, which saw him drop six places down to sixth.
The russian currently sits second behind Bones but his 12th UFC win in-a-row could take him above the light heavyweight champion when the new rankings are out next week.
Advertisement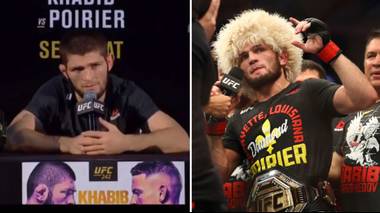 Advertisement