Advertisement
Advertisement
Another horrific miss from Alvaro Morata in Chelsea's match against Fulham has all but sealed his fate away from Stamford Bridge.
The usual platitudes will be rolled out in due course, both from player and club, as to how he'll keep working hard to turn things around, how he's an important member of the squad yada yada…
Frankly, it's fooling nobody, and it's becoming painful to watch the 26-year-old in action.
Let's not forget that up to about 12-15 months ago, Morata had booked his seat on the plane for Spain and was heading to the World Cup in Russia.
His confidence dipped to such an extent that Diego Costa, a player that hadn't set foot on a pitch in six months, got the nod ahead of him.
In truth, the former Real Madrid and Juventus man has never truly recovered from that.
His movement at present is a little better than average at best, and he's snatching at chances that he was dispatching with aplomb when in the Spanish capital.
From a training point of view, it's understood that Morata is doing his level best to be the sharpshooter of old, but there's a blockage in him being able to translate that onto the pitch.
Though a January move away is absolutely out of the question, the Blues could cut their losses in the summer.
By then, Santiago Solari will have more of an idea of what he requires for his Real Madrid side, and talk of a possible swap deal with Isco isn't without merit.
Though each inhabits entirely different areas of the pitch, Chelsea could have a ready-made replacement for Eden Hazard, should he finally decide to depart, and Karim Benzema has often worked better with another striker alongside.
Morata is no Cristiano Ronaldo of course, but his experience and knowledge of the inner workings of Los Blancos will hold him in good stead.
Even if Hazard is overlooked, it's abundantly clear to everyone that Morata would benefit from a new start.
Madrid is his home. Born there, even before Real took him to La Fabrica, he spent two years at Atletico Madrid's academy and one at Getafe.
The sojourn to Juventus aside, moving to Chelsea has been just the second time Morata has left the confines of the Spanish capital.
There would be no need for a settling in period and even allowing for inflation with regard to transfer fees, the front man's form means that the likelihood of him costing any more than what Chelsea paid for him is minimal.
Neymar is still the main man as far as Real president, Florentino Perez is concerned, but there are a number of issues with any potential purchase of the Brazilian.
For starters, a recent poll showed that the Madridistas are dead against his signing, with the vast majority preferring the club to look elsewhere.
Even if that doesn't deter Perez, who is a law unto himself, one has to look at where he would fit. You could argue that a team could be built around him, but that's never as easy as it sounds.
And then there's the fee of course, likely to be another world record purchase.
Why waste time and money on something that 'might' work, purely to push forward a personal agenda of putting Real on the map with the world's 'most expensive signing,' when you can get a player at a quarter of the price who you know could slot straight into the team, and understand the nuance and way of working almost instantly?
Morata's repatriation makes sense for all parties, and talent such as his needs to be fostered in the right environment for him to be giving of his best.
He's certainly worth much more than an internet meme or two.
Advertisement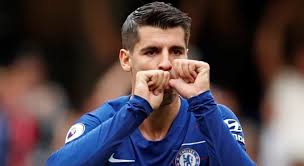 Advertisement