Advertisement
Advertisement
1-Nwankwo Kanu: "Papilo" as called by nigerian people during his playing days. Kanu is perhaps the best Nigerian player to have ever lived. His amazingly ball intelligence was in fact supernatural. Pele once said that kanu played more with his head than legs. You can never know what next is in his bag of tricks.
Kanu is probably one of Africa's most decorated footballers in history:
Kanu won UEFA Champions League with Ajax Amsterdam.
-Also won UEFA Cup with Inter Milan.
-Play with dream team with gunners arsenal.and won Three English FA Cup, one English Premier League, Olympic Gold Medal.
-Kanu won CAF African footballer of the year twice in 1996 and 1999.
-Papilo was voted by his club Arsenal as the 13th greatest Gunner of all time.
-He was the captain of Nigeria's original Dream team that won Gold Medal at the Atlanta Olympics in 1996(4-3) one of the best game in hitory olympique.
2- Rasheed Yekini:
one of thes best african players in history. Yekini leading all time goals scorer. He was a menace to defenders… some worth unstoppable giant with speed equivalent to that of Usain Bolt.
Rasheed yakini first player nigerian scored first world cup goal. and also won the 1994 African Cup of Nation's .Yekini score most goal in this cup.
The legend rasheed yekini scored 37 goals in 58 appearances for the Nigerian national team.
3. Teslim Balogun: Arguably the most popular Nigerian footballer of all time. whose fame has span over five decades since 1949.
Thunder balogun has become a kind of Superhero in the Nigeria folklore.
But in reality, Teslim was the first Nigerian footballer to sign a professional football contract abroad with FC Peterborough in the UK.
4-Jay-jay Okocha: There hasn't been any African player that could get near Jay-Jay in terms of his magical skills and flair. His ball tricks, flicks, leg-over were something out of this world.
In 2004, Pele listed Jay jay in his list of the greatest 125 living players of all time. In 2007, Okocha was voted the 12th greatest African footballer of all time.
He won the inaugural edition of BBC African footballer of the year Award in 2003 and retained the Award in 2004.
He was a member of the Nigeria national team :
Okocha won African cup of nation in 1994 .
Okocha won Olympic gold Medal in Atlanta 1996.
5- Segun Odegbami or as called in nigeria "mathematical": during his playing days and his fame almost got to the level of divinity after he scored a brace that helped Nigeria win it's first ever African Cup of Nation in 1980.
Odegbami's speed and calculation as his flight the right wing for club and the national team was phenomenal.
"mathematical" spent most of his playing career with IICC Shooting stars of Ibadan from 1970 to 1984. He scored 23 goals in his 46 caps for his country .
He won first African nations cup trophy in 1980 with nigeria.
6-Emmanuel Amunike: A great attacking phenomenon that was fond of scoring deciding goals for both the Nigeria national team and his club sides,He scored the match winner for Nigeria at the Africa cup of Nations in Tuinsia 1994 and also scored the match winner in Atlanta Olympics soccer finals in 1996.
He scored 2 world cup goals in with nigeria inaugural appearance at US 94 world cup against Italy and bulgaria,In his short spell as a player, Amunike remain the most successful player at the national team level. He won both AFCON in 1994 and Olympic Gold Medal in 1996.
With Clubs:
Amunike la-liga giant Barcelona in 1996.
Sporting Gisbon 1994.
He won CAF African footballer of the Year 1994.
7. Victor Ikpeba: AS called the prince of Monaco,Ikpeba lit up the whole of the French ligue1 with his mesmerizing skills and goal scoring abilities. He scored 84 goals in 102 appearances with club Monaco in ligue 1.
Ikpeba won the CAF Africa footballer of the year award in 1997.
Member of the Nigerian Dream team that won Gold medal at the Atlanta Olympics in 1996.
8. Anua Lawal Rigogo: A goalkeeper with extraordinary abilities… his acrobatic displays made the then President of Ghana, Kwame Nkuruma, to nickname him the Flying Cat.
It is said that nobody born of a man can score Rigogo he only conceded 4 goals in his 42 appearances for the Nigeria national team.
Rigogo was one of the players that made the game of football so popular in Nigeria.
9. Stephen Keshi: A formidable central defender with incredible skills Keshi led the exodus and was said to be the man who opened the door for Nigerian footballers to start playing abroad
Stephen was the longest captain of the Nigerian national team for ovr a decade and half,he also captained teams like Strasburg and sacremento abroad.
Stephen captained the Nigeria national team to its first world cup appearance in 1994. He is the only Nigerian that has won the African Cup of Nation as both Captain and coach in 1994 and 2013 respectively.
10. Taribo West:
Taribo made name in Auxerre, Inter-Milan, then later Derby County and Plymouth, West was quite a character on and off the field… a big nemesis to many strikers in his time. He was known as a defender that played football with his own blood
He was a member of the original Nigeria Dream team that won Gold medal at the 1996 Olympics in Atlanta USA.
11-John Obi Mikel
John Obi Mikel (born 22 April 1987) is a Nigerian professional ,One of the best midfielder in history of africa play all time with chelsea an won all trophy,and won cup nation with nigeria.
All cups with chelsea and nigeria:
Chelsea[98]
Premier League: 2009–10, 2014–15
FA Cup: 2006–07, 2008–09, 2011–12
Football League Cup: 2006–07
FA Community Shield: 2009
UEFA Champions League: 2011–12
UEFA Europa League: 2012–13
Trabzonspor
Turkish Cup: 2019–20
Nigeria
Africa Cup of Nations: 2013
Nigeria Olympic
Summer Olympics bronze medalist: 2016
Individual
FIFA World Youth Championship Silver Ball: 2005
CAF Most Promising Talent of the Year: 2005
Chelsea Young Player of the Year: 2007, 2008
Advertisement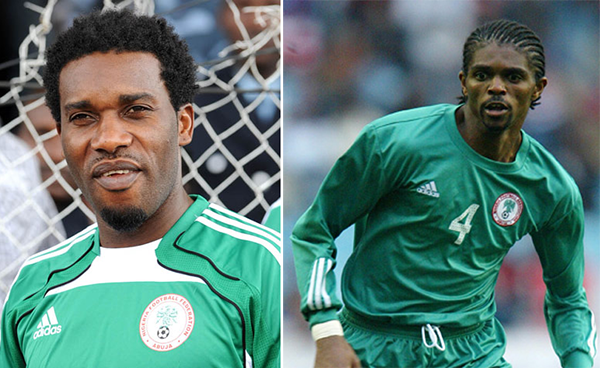 Advertisement