Advertisement
Advertisement
Man united penultimate pre-season friendly could be a very special occasion for the Solskjaer family.
It has emerged that Noah Solskjaer, the teenage son of Ole, is ready to make his senior debut for Norwegian side Kristiansund when they come up against manchester on Tuesday afternoon.
Advert

The Noah, who has made 13 appearances for Kristiansund B team, scoring 1 has trained with the first team in recent days, according to Norway Aftenposten.
Christian Michelse manager of Kristiansund has heaped praised on the Solskjaer Son ahead of the clash.
Christian Michelse said :"While ole Solskjaer was more effective the closer he came to the box, Noah is more the one who sets up the attacks."
And also said :"He has lots of skills and football understanding - Noah has gone to a good school. He and several of these youngsters have been with us for a while.
"We knew they were good football players, but what is fun is that we see that they are taking the level more and more.
"It's great for them and fun for us to see them grow well."
The 19-year-old, who is pictured below during Manchester United's Premier League title celebrations in the early 00's, moved to the club in 2017 from Ole Gunnar's former club Clausenengen FK.
He is a defensive midfielder who has based his game around former United midfielder Michael Carrick.
In fact, he called the former England international a "role model" in a more recent interview.
Kristiansund CEO Kjetil Thorsen has also spoken about Solskjaer Jnr getting a chance against Premier League opposition.
Kristiansund said:"It's fun, even though I don't know how he will be prioritized. It gives the fight an extra dimension."
It is believed that Tuesday pre-season friendly has 'virtually' sold out ahead of the 6pm kick-off.
Advertisement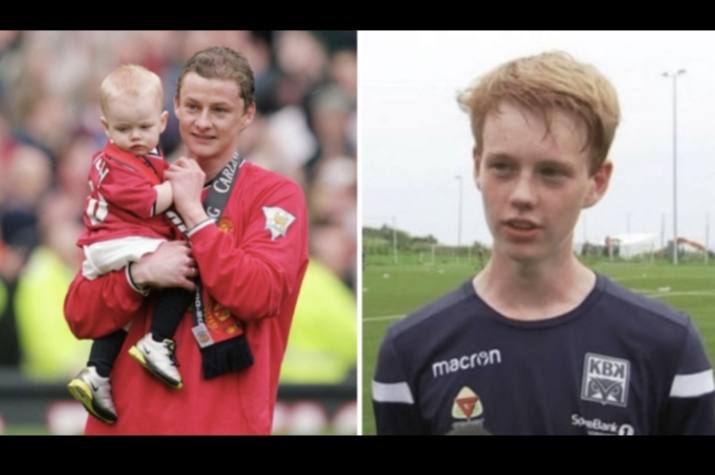 Advertisement