Advertisement
Advertisement
Riqui Puig is an outstanding talent and with the exception of Ansu Fati clearly the best talent to come out of La Masia in a long time. His creative numbers are exceptional and though it's raw, his pressing intensity in the final third is very good. The vast majority of fans see him as a key part of the future of our midfield.
I'm here to explain why I do not. It's gonna be unpopular, and my conclusions hurt to type, but this is why.
Our squad has been build incredibly poorly, but what has been built very clearly suits a 4231 both in the short and (more importantly) long term - Frenkie de Jong plays by far his best football in a pivot, Ansu Fati clearly benefits from more attackers to interchange with and players like Pedri (long/medium term) and Griezmann (short/medium term) play their best football in a n10 role behind a striker.
I've long said that Puig should play as a 10 (both in this system and in general) and I think his performance against Ferencvaros vindicated this - if he can prove what I say below wrong (and I hope he does) then this is where he should play.
But why do I not see a bright future at Barca for Puig? In short: Pedri. Pedri is more than 3 years younger than Riqui and has already proven himself a more adaptable and well rounded player than Puig has at any point in his career for us. The fact so soon after arriving at only 17 has he solidified a starting spot is, frankly, incredible.
Pedri is despite his age largely outperforming Puig across the board. On the defensive end, Pedri is completing more pressures (6.60 vs 5.09), more than triple the blocks (2.40 vs 0.70), more tackles (1.20 vs 1.05), double the interceptions (1.00 vs 0.53), more clearances (0.20 vs 0.18) and is dribbled past less (1.60 vs 2.63).
Offensively the story is admittedly more mixed, which Pedri producing a lower xA (0.20 vs 0.28), fewer key passes (1.40 vs 1.75) and worse ball progression, but in turn Pedri is putting up much better numbers in terms of buildup play more generally - with higher numbers for xGChain (0.95 vs 0.77) and xGbuildup (0.67 vs 0.41), which show that Pedri is involved in moves that more often lead to better chances and shots. Furthermore, Pedri is getting in much better places when shooting (npxG/sh: 0.15 vs 0.08) and thus has a much better xG overall (0.16 vs 0.10).
So what do these numbers tell us overall? In short, Pedri outshines Puig in all phases of play bar the final ball and progressive passing - if we are to build around of these 2 players as our 10 for the future, it should be Pedri not Puig. Pedri is outperforming him in almost all areas despite the age gap which could allow him to surpass Puig in those areas as well.
Ok, so onto the alternative solutions. Starting with the obvious: Why not both?
Fitting both Puig and Pedri into a lineup together normally comes in 2 variants - which I'll call Pedri Winger and Dual Interiors for the purposes of this post. We'll start with the former.
The idea of forcing Pedri wide to accomodate Puig is, in isolation, a sensible one. Pedri actually made more appearances on the (left) wing than as a 10 last season for Las Palmas in their 4231. He was (and is) still widely seen as a 10 long term where he performs best, but it's very clear that he can play on the left. However I said it was a good idea in isolation for a reason - and that reason is Ansu Fati. The runner up Golden Boy has locked down the left wing slot for now and the foreseeable future meaning the only real space for Pedri in this would be on the right wing.
Pedri does not perform well on the right wing. He only played there twice last season and against Real this season. He was overwhelmed in the latter and couldn't influence the game and this is the norm in that role. Despite being relatively two footed (20% of touches with his left to Puig's 6%), he is still primarily right footed and being on the right thus prevents him from moving into his preferred areas. And that's to ignore the presence of Dembele and Trincao on this flank.
The other option, and by far the worse one, is the idea of playing both as a 8s in a 433 with Frenkie behind them as a lone 6. I've explained at length as to why Frenkie should not be played in this role in general - it misunderstands what he's good at, exposes our defense and prevents him from doing what he's best at. But alongside this pairing of 8s it's FAR worse - all three COMBINED only put up about the same defensive action numbers as an elite defensive midfielder. I understand the appeal of plenty of attackers, both from a theoretical excitement POV and from a ideological position of ball domination rather than defending. However neither actually work like that - we've seen how an effective 415 completely breaks down our progression and weakens our attack in the process when Koeman uses it to chase games, and for the latter - it's just not true.
Xavi played as a 6 sometimes due to his good defensive ability, Iniesta played in a double pivot in the defensive phase under Lucho - though neither were ever known for their defensive ability due to their fantastic ability in possession, it was still there.
Do I think this overall makes Puig a bad player? Absolutely not. Do I think he (assuming he stays) will have a role to play in our future? Yes. But what I doubt when looking with a critical eye at our squad and how it's going to progress I do not think it is likely that Puig becomes a KEY player for us. He simply has too many weaknesses and hence lacks the flexibility to fit around others if they are the keys.
Can he prove me wrong? Yes, and I hope he does. But come 2025, I do not expect him to be in the gala XI - and as things stand, that'll be the correct call.
Advertisement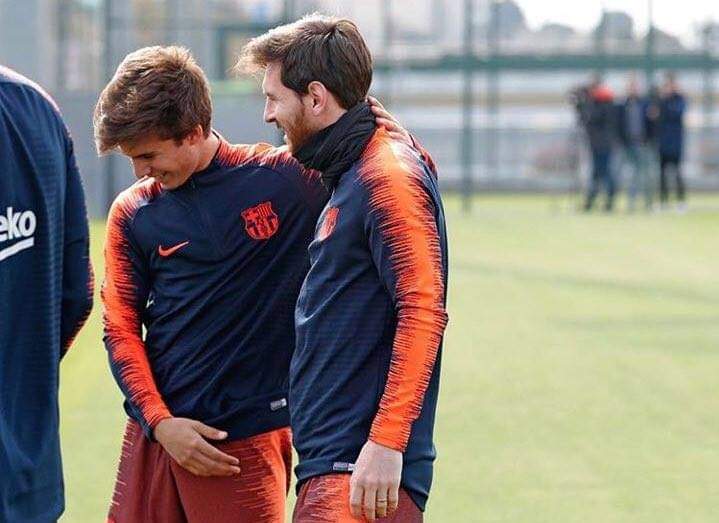 Advertisement