Advertisement
Advertisement
Juventus Manager resorted to chewing cigarettes on a number of occasions throughout the 2018/19 campaign.
The old  Chelsea manager averages around four packets of cigarettes a day, but that could be all about to change after a recent revelation.
In press conference on the Juventud pre-season tour of China, the club boss has pledged to quit smoking all together
A journalist in the conference press area asked sari: "We all know you are crazy for cigars. Have you ever smoked Chinese cigars or cigarettes?"
juventus Manager, clearly fed up with the same old question, surprised the room when he responded: "Let's say I am quitting smoking. I am quitting. Enough!"
And this wasn't even the first question of the day about his habit. Here is the press conference below:
So how many cigarettes does he really smoke on a daily basis? some news , the Juventus manager gets through 80 cigarettes everyday day.
That means if he's awake for 16 hours then Sarri will smoke five an hour. That is a cigarette every 12 minutes.
The guys over at Dream Team worked out that if a pack costs £11.50, then the Chelsea manager smokes £46 of his salary every day.
That works out at a hefty £1,400 every month. Madness. 
juventus Manager admitted that he rarely feels the urge to smoke during games, but "it really is necessary" after the full-time whistle.
Sarri said :"I don't particularly feel the need to smoke during games, but straight afterwards it really is necessary," he said.
Sarri said :"I had back problems tormenting me for weeks, but I feel much better now."
Advertisement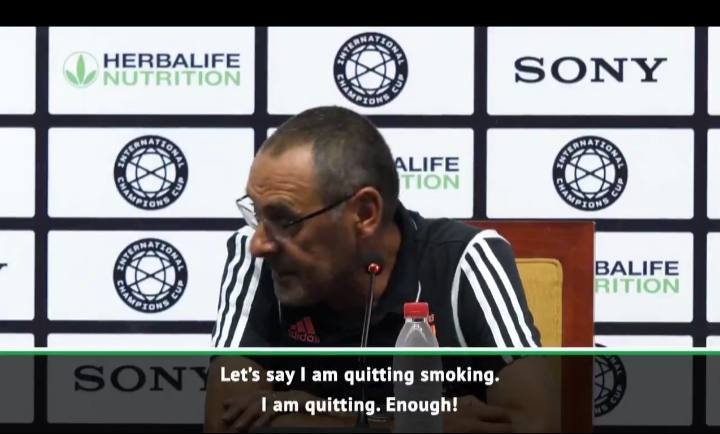 Advertisement