Advertisement
Advertisement
Barcelona's 2019 got off to great start and that was before they earned a hard-fought 2-1 victory at Getafe on Sunday evening.
Earlier in the day, Sevilla and Atletico drew 1-1, meaning they both dropped points, while fifth-placed Real Madrid suffered a 2-0 loss at home to Real Sociedad.
All the results mean Barca have widened the gap between themselves and second-placed Atletico to five points, and yet again, they have Lionel Messi to thank.
For the fourth year in a row, the little magician scored Barcelona's first goal of a calendar year, and even more impressive than his goal threat were his playmaking abilities.
Messi floated all over the pitch and showed amazing composure in one moment when literally half of the Getafe team converged on him at the same time in an effort to win back the ball.
MESSI SPARKLES IN BARCA'S FIRST GAME OF 2019
The Barca captain lined up alongside Luis Suarez and Ousmane Dembele in Ernesto Valverde's front three and opened the scoring in the 20th-minute.
Messi reacted quickest to a loose ball inside Getafe's box, seeing his initial strike hit goalkeeper David Soria before coolly slotting the rebound into an empty net.
Despite a terrible arm injury back in October, the Argentinian is maintaining a ridiculous level of consistency in 2018-19, recording 22 goals and 12 assists in just 21 games.
THE MOMENT SIX PLAYERS TRIED TO STOP MESSI
In the 27th-minute, Leo Messi drove forwards at pace with the ball towards a penalty area which was packed with both Getafe and Barcelona players.
As he reached the 18-yard line, two defenders stepped out to press him and three other players were tracking his run, desperately trying to keep up with Barca's number ten.
Dimitri Foulquier (Getafe's number 24) even made a last-ditch effort to put Messi off his stride, meaning six players attempted to stop the little magician at the same time.
However, in typical Messi fashion, the 31-year-old managed to stay composed, evade every challenge and keep possession by poking a through ball to the overlapping Arthur.
Suarez's sublime volley ended up being the decisive goal at the Coliseum Alfonso Perez, but Messi produced several moments to leave fans in awe - including this one.
Barca's all-time top scorer will probably be rested for the mid-week Copa del Rey trip to Levante but will be back in action when the Spanish champions host Eibar in La Liga on Sunday.
Advertisement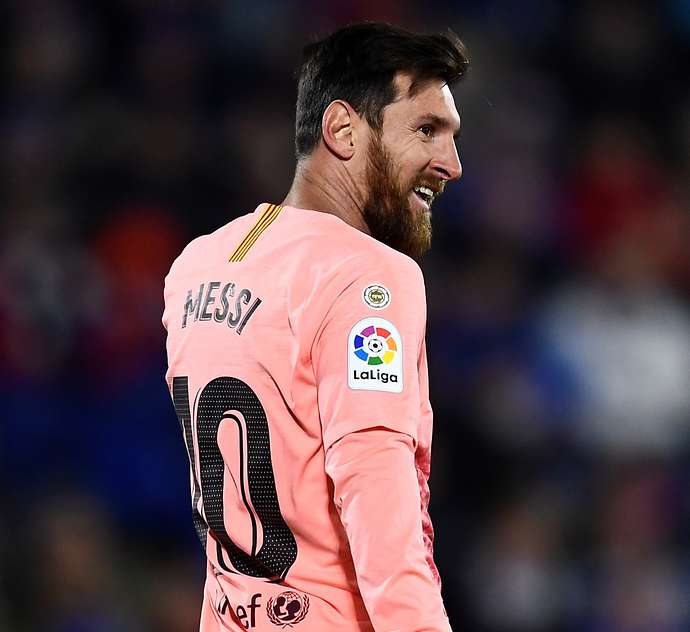 Advertisement