Advertisement
Advertisement
The manager of manchester city has taken a swipe at Mane's 'diving' ahead of next Sunday's title clash against reds Liverpool.
Both Manchester City and Liverpool came from behind to scrape 2-1 wins in a pair of tense, nervy games on Saturday afternoon against Southampton(2-1) and Aston Villa(2-1).
The senegal international scored Liverpool's winner at Villa Park in the fourth minute of stoppage time, but had been booked for diving earlier in the game- a fact that didn't escape the watchful eye of Guardiola. Speaking after the match, guardiola hit out at mane with a back-handed compliment, calling him a 'special talent' who did what it took to win.

When asked whether he was aware of Liverpool's late victory, Guardiola told BBC Sport that he was not surprised by the result.
Speaking about the Senegal international knack of scoring late goals, Guardiola said: "It's happened a lot for Liverpool in the last years, it's because (sadio mane) is a special talent.
"Sometimes he's diving, sometimes he has this talent to score incredible goals in the last minute. He's a talent." Although the remarks appeared to be delivered at least partly in jest, Guardiola's comments are sure to whip up a storm in Mersyside, where there has been no shortage of bad blood between the two sides in recent years.
"If it's one time, two times, 'we were lucky, we were lucky', but it happened in the last two seasons many, many times - they have a special character to do that," Guardiola said of Liverpool's late goals.
"We look at ourselves, we know which team we face, I think they have won 10 and drawn one. Next week we go to Anfield to try to play them."
City travel to Anfield next Sunday desperate to take three points from their rivals and close the six-point gap. They have't won in the league at Liverpool's ground sine 2003 and will be desperate to break the curse.
Advertisement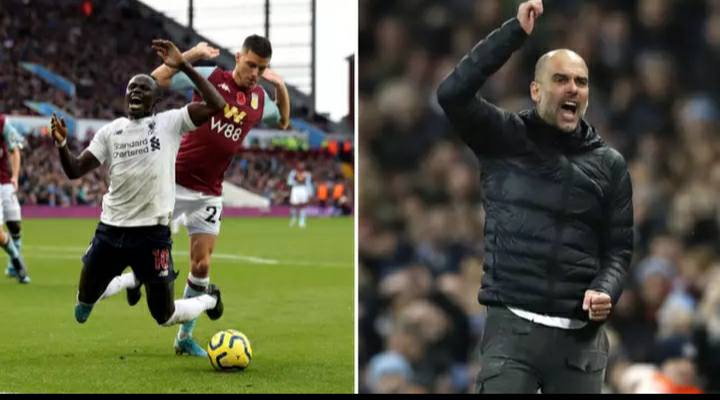 Advertisement