Advertisement
Advertisement
In the last minute in game Bundesliga out deep into injury time as Frankfurt trailed Freiburg 1-0 and captain Abraham launched the ball into the box in a desperate attempt for his side to snatch a late equaliser.
Benches cleared at the end of Freiburg's win over Frankfurt after David Abraham took out Freiburg's coach Christian Streich on the sideline.

staff and Players from both sets of teams collided in the brawl as officials tried their best to control the situation.
Abraham was given a straight red card.
Advertisement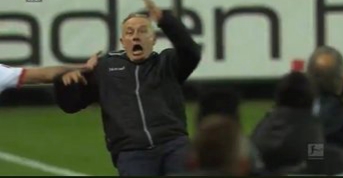 Advertisement