Advertisement
Advertisement
Since joining  Goalkeeper of brazil made the £35 million move to Manchester City in 2017, Ederson ability with his feet has been so impressive that it's caused many to believe he would be capable of playing in other position.

Advert

 
The  has show  a frightening confidence on the ball with his passing out from the back and even chipped in with two incredibles long assists last season for Raheem Sterling  and Sergio Aguero.
What's more, Ederson got so bored on  occasion against Wolves in last season that he rushed out from his goal and sat in midfield for a bit, exchanging three passes.
But how would the international brazil fare if he played outfield for 90 minutes in a game? Well, Ederson gave us a glimpse of what he's capable of in a charity game he organised in his hometown alongside Brazilian singer MC Guime.

Advert

 
Wearing the Number 10 shirt and playing in the same side as his teammate Gabriel Jesus, Ederson scored 2 in a 5-4 victory for his side.
First he justified just why he's desperate to take a good  penalty for City when he coolly stroked home from 12 yards in the first half, and he followed it up by completing mugging off the opposition goalkeeper with some ridiculous footwork in the second.
The aforementioned highlights have only made his even more desperate to see the 25-year old  in midfield in a competitive fixture.

Advert

 
The former Benifica man, who idolises the great Rogerio Ceni, used to play as a full-back but realised it wasn't quite for him so asked to have a go in goal - which turned out to be the good decision.

Advert

 
the 25-year old  also had vast experience playing futsal to help him grow into the world's best distributing goalkeeper Modern.
"I started playing as a full-back, but it's difficult to chase quick forwards, especially for me that I'm not particularly quick!" he told The Telegraph.
"I asked my manager if I could switch my position to the goal. When I did my first training session, it was love at first sight. I liked it since minute one and then my career as a goalkeeper started. But I think my footwork is influenced from having started as a full-back. Also I played futsal and that helped me a lot.

Advert


Advert

 
"I used to play as a 'goleiro-linha', it's a goalkeeper that plays a lot with his feet. So we used to attack with five players and defend with five players. From that period, I had my shooting skills and good footwork."
Advertisement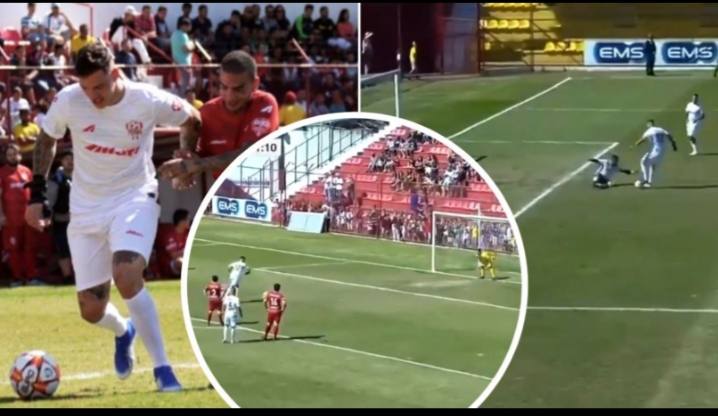 Advertisement