Advertisement
Advertisement
A football fan has ranked the Premier League's midfielders from "world class" to "not footballers" in a highly controversial list,this list content this order:

Th bernardoo user twitter @_bernardooooo, he's named three world class midfielders in bernardo Silva(Portugal), Kevin De Bruyne(man city -belgique) and Fernandinho(brazil) while David Silva, Pogba, Christian Eriksen and Fabinho are all down.

This fan of football has sorted the Premier League's midfielders into six categories(World Class-very good-good-Mid-trash-Not Footballers).

The likes of Bernardo Silva, Paul Pogba, N'Golo Kante, Declan Rice, Granit Xhaka ,Jesse Lingard all feature.

here is the ranking.

-World Class :Kevin De Bruyne, Fernandinho,Bernardo Silva

-Very Good : Paul Pogba, Christian Eriksen, Fabinho,David Silva.

-Good : Mesut Ozil,Gylfi Sigurdsson, Moussa Sissoko, N'Golo Kante, Youri Tielemans, Naby Keita, Ruben Neves, Wilfred Ndidi.

-Mid :Declan Rice,Lucas Torreira,, Aaron Mooy, Ilkay Gundogan, Ruben Loftus-Cheek, Jorginho, Jordan Henderson, James Maddison, Idrissa Gueye, Phil Foden, James Milner, Adboulaye Doucoure, Dele Alli, Jorginho, Georginio Wijnaldum, Victor Wanyama, Andre Gomes, Luka Milivojevic.

Trash : Nathaniel Chalobah,Scott McTominay, Tom Davies, Sean Longstaff, Matteo Guendouzi, Mark Noble, Joao Moutinho, James McArthur, Fred, Ross Barkley, Mateo Kovacic, Manuel Lanzini, Ander Herrera, Nemanja Matic, Eric Dier, Mohamed Elneny, Harry Winks, Granit Xhaka
-Not Footballers : Jesse Lingard,Jonjo Shelvey
What do you think about this rank?
Advertisement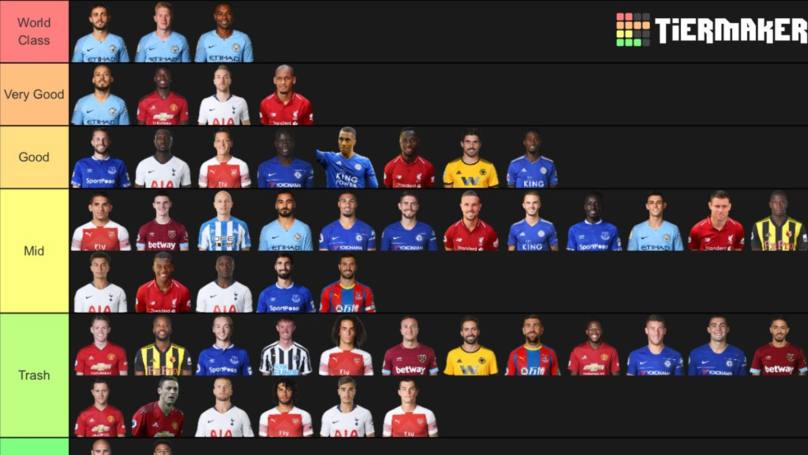 Advertisement