Advertisement
Advertisement
The 28-year-old believes his FIFA 20 rating should be at least 88 - which would make him the highest-rated Premier League defender in the football game.
 Virgil van Dijk netherlands centre-back will feature on the front of the champions edition of EA Sports' football game to be released on September.
And after a sensational campaign during which he was awarded the PFA Player of the Year as well as the Man of the Match in the Champions League final triumph over Spurs in Madrid, the last player for celti  Celtic man is expected to receive an increase in rating on the next FIFA 20.
Advert

 
 Virgil van Dijk was 85 rated in FIFA 19 and ended up getting upgraded to 88 mid season thanks to his imperious form. And he believes that should be the benchmark for his upcoming rating FIFA.
"I think I should get 88 at least," he told FIFA YouTuber MattHDGamer at the iconic Fenway Park baseball stadium in Boston.

Advert

 
"88 should be a fair rating but I have no control over it. I think they have should have my pace a little bit up, I'm not sure what it this year but it's difficult having defender with higher pace because it makes it easier to defend the strikers."
Speaking exclusively to SPORTbible at the same event, Van Dijk picked his ultimate five-a-side team to feature in FIFA's new street football mode called VOLTA.
Alongside himself Van Dijk picked out two of his Liverpool teammates in Alisson and Wijnaldum, as well as Barcelona pair Frenkie De Jong and Lionel Messi.
 Virgil van Dijk said: "Wijnaldum is a fantastic player, very underrated, he's very good on the streets and got quick feet. My second midfielder would be Frenkie de Jong. He's just had a big transfer to Barcelona and is a very special player."
 Virgil van Dijk added: "My striker would be Lionel Messi because he's one of the best players, if not the best player in the world."
The 28-year-old becomes the first centre-back to feature on FIFA's front cover since Sol Campbell in 2000 and sees it as a huge source of pride.
"When I found out I was on the FIFA cover it was unreal," he reflected.
advert

 
"I've played FIFA since I was young and saw all these big players on the cover.
"It's good to get recognition sometimes as a defender and I'm very proud. It's not often that a defender comes on the cover and it's something very special.
Advertisement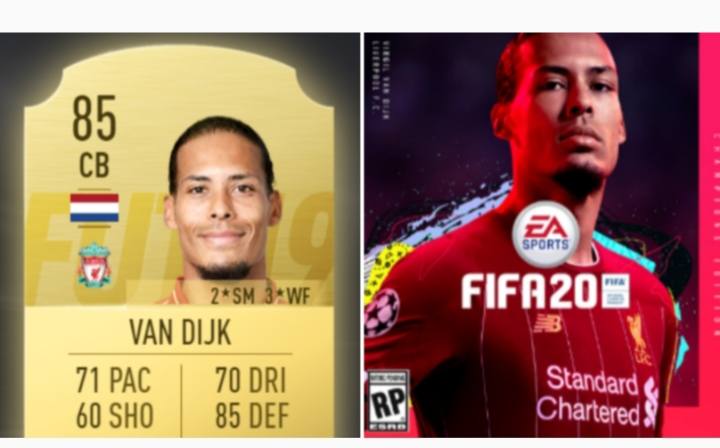 Advertisement