Advertisement
Advertisement
Nigeria has been drawn in for the 2021 Africa Cup of Nations (AFCON) qualification series.
The Super Eagles of Nigeria will take on Benin, Sierra Leone and Lesotho on in group L to qualify for the 33rd AFCON in Cameroon.
The draw ceremony was anchored by Anthony Bafoe, CAF deputy secretary at the Marriot Hotel, Cairo. Africa's number one on FIFA rankings, Senegal, is in group I alongside DR Congo, Guinea Bissau, and eSwatini. 2019 AFCON host nation, Egypt will face Kenya, Togo, and Comoros in group G.
Almost every CAF member country entered for the competitions except Eritrea and Somalia. At the end of the preliminary competitions, 24 teams will be at the Africa Cup of Nations while five represent the continent at the World Cup.
Preliminary Rounds:
Liberia vs Chad- Group A4
South Sudan Vs Seychelles- Group B4
Mauritius Vs São Tomé – Group C4
Djibouti Vs Gambia – Group B4
Group pairings:
Group A: Mali, Guinea, Namibia,
Group B: Burkina Faso, Uganda, Malawi
Group C: Ghana, South Africa, Sudan
Group D: Congo, Gabon, Angola,
Group E: Morocco, Mauritania, Central Republic, Burundi
Group F: Cameroon, Cape Verde, Mozambique, Rwanda
Group G: Egypt, Kenya, Togo, Comoros
Group H: Algeria, Zambia, Zimbabwe, Botswana
Group I: Senegal, DR Congo, Guinea-Bissau, eSwatini
Group J: Tunisia, Libya, Tanzania, Equatorial Guinea
Group K: Cote D'Ivoire, Niger, Madagascar, Ethiopia
Group L: Nigeria, Benin, Sierra Leone, Lesotho.
Which one is the group of death?
Advertisement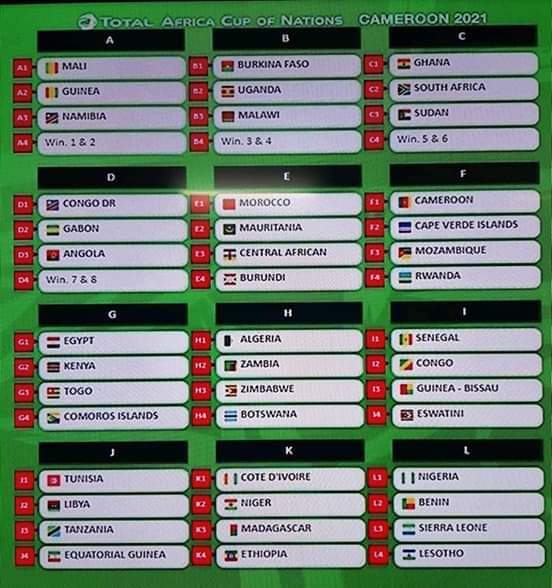 Advertisement